I couldn't sum it up better than this. It's time websites started getting down on the fact that random passwords with a specific character length, containing an upper case character, a number, and a symbol may not necessarily be any more secure than a random couple of words put together.
Let me put it this way, depending on how you do the calculation, the passwords "7H#e2U&dY4" (ten random characters) and "blanketsensory" (14 nonrandom characters) are approximately equal in strength, but the latter is much easier to remember and type. Even though it contains only lowercase letters, and blanket and sensory are both ordinary English words, the password's entropy is high enough that a concerted brute-force attack would take days or weeks to crack it. The moral of the story (as brilliantly illustrated in the following XKCD comic) is that when you have to memorize a password, a longer phrase composed of random words or syllables will make your life easier than a shorter string of entirely random individual characters. Enjoy!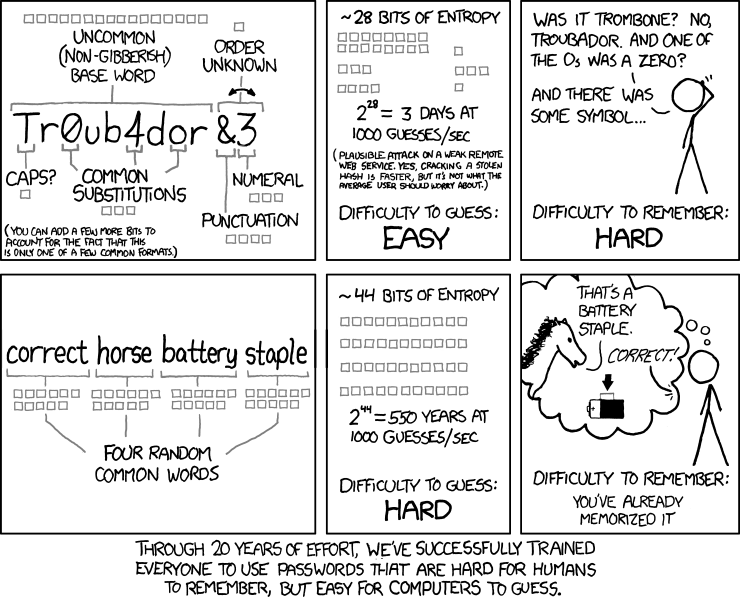 Oh, and before you start wondering where I am getting all the time to post all this stuff I can tell you very simply. I had dental surgery on Tuesday last week to remove an impacted lower wisdom tooth. A very gruesome operation; in all honesty I have no idea how a dental surgeon can remove a tooth that is lying sideways under other teeth in ones jaw. Well, I mean, I guess I do have a fair idea of how it's done, I'm not stupid, it's just that the idea I have disgusts me so much it hardly bears thinking about. Well I've come this far, so let me get it out there into the wild. I guess what they do is open up and fold back the gum flesh, remove some portion of bone, break the evil tooth into several pieces to aid removal, and finally remove said tooth through the created pocket in gum/jawbone. Afterwards leaving a gaping hole in the side of ones jaw that surgical sutures snigger at when used in an attempt to close the wound. All I can say is that I'm glad I look under the hood of software, and not humans. That I could not stomach.
Hmmm….yes, I think that about sums up what happened. Safe to say I insisted on a general anaesthetic, and would do the same again if I ever have to go through this procedure in future. God forbid being awake and aware for that gruesome operation! So as you can imagine, I have been lying in bed since then in a significant amount of pain. Unable to eat anything other than soup, unable to drink anything other than water, and unable to do anything physical other than sitting around. Not to mention I can't go anywhere because I look terrible (swollen mouth to the extreme) and cannot speak. What to do…….post up on my blog, change the site design slightly, and finally get around to changing all my passwords to something way more secure 😉
Oh, and if you want to read something that will make your stitches split (quite literally) check this post out from Hyperbole and a Half: The Party